Learn how to listen to your body and act in alignment with your values to become a powerful leader.
In modern management and coaching, there is a lot of emphasis on the importance of having the right mindset, developing intellectual competencies, and acquiring knowledge. The body has been left behind and only recently cognitive science has proven how it impacts all aspects of human life, from emotional reactions, decision making, perception, problem-solving, abstract thinking, to communication. The quality of body and mind connection influences our lives, work, and relationships. Our physical and psychological well-being is interconnected and affects our ability to respond to situations, which can impact our performance and working environment.
Changing the well-being with the power of the mind alone is not sustainable. Repeating positive affirmations in your head is not enough to calm yourself down during a stressful situation when your nervous system is on the ride.
Embodiment is the road to our self-awareness, conscious decisions, and wise actions. It recognizes how the way we sit, move, or breathe can improve our thinking, speaking, and acting.
Embodied Leadership is all about creating alignment between your mental, emotional, and physical state of being and using the body as guidance. It's the foundation of conscious presence, connection, and trust in one's abilities to understand and regulate itself.
Nowadays, companies invest significantly in the mental and physical well-being of their top managers and executives. It has become clear that overall job satisfaction and performance highly depend on the individual's capacity to take care of oneself, balance work and private life, and manage stress.
There is an increased demand for leaders who can embody the company's vision, create an inclusive atmosphere among the team, and empower others to contribute with their authenticity and personal strengths.
Who is an embodied leader?
The embodied leader is a person who is centered (in mind, heart, spirit, and body), mindful, self-aware, and in harmony with oneself. It is an individual who possesses the ability to express with clarity, integrity, and confidence even in the midst of difficulty.
The embodied leader inspires the team to create a culture full of understanding, support, and sustainable growth. It is the person who respects the uniqueness of every individual and embraces its skills and personal qualities.
The Embodied Leadership training offers solutions, including best practices and tools to establish an empowering and engaging organizational environment.
By working with the body, leaders will learn how their state of being influences their performance and work relationships. They will understand the emotions and patterns of operating, and how to self-regulate in the face of challenge.
The program is designed not only to improve overall leadership skills but also to give the executives tools and strategies that can be used daily both professionally and personally.
During the training, the participants will learn simple techniques and tools to have a deeper understanding of body and mind connection, such as:
– how to interpret emotional reactions patterns, limiting beliefs and assumptions
– how to respond with actions that align with values while under pressure
– how to develop a relaxed and centered state of being and self-regulate
– healthy self-expression in the team, active and compassionate listening
– how to develop healthy boundaries, communicate the needs and take care of oneself as a leader
The Embodied Leadership program is available as
training, workshop, 1on1 coaching, or team coaching.
Send inquiry
Team-building
The team-building activity is designed to increase the team's bond, authenticity, and unity with maintaining the uniqueness of each team member's individual skill set and personality.
The participants will learn how to:
– embrace each other's personalities and authenticity in a workplace
– connect with one another on a deeper level
– communicate and respect boundaries
– be present and centered during everyday life
– give constructive feedback without taking things personally increase team resilience during the challenge
– balance performance and well-being at work
Customized workshops
and training
I help in various matters from the area of self-development, team management, and leadership. I provide solutions that are tailored to company needs, values, and challenges. The workshops and training include the theoretical part, as well as practical activities.
I will design a program that:
– meets the organizational culture, needs, and goals
– helps participants apply the skills and ideas immediately in their workplace
– includes your real-world scenarios and examples based on the company's challenges
– gives your team effective tools to manage internal conflicts
– is interactive and fun to maximize the learning process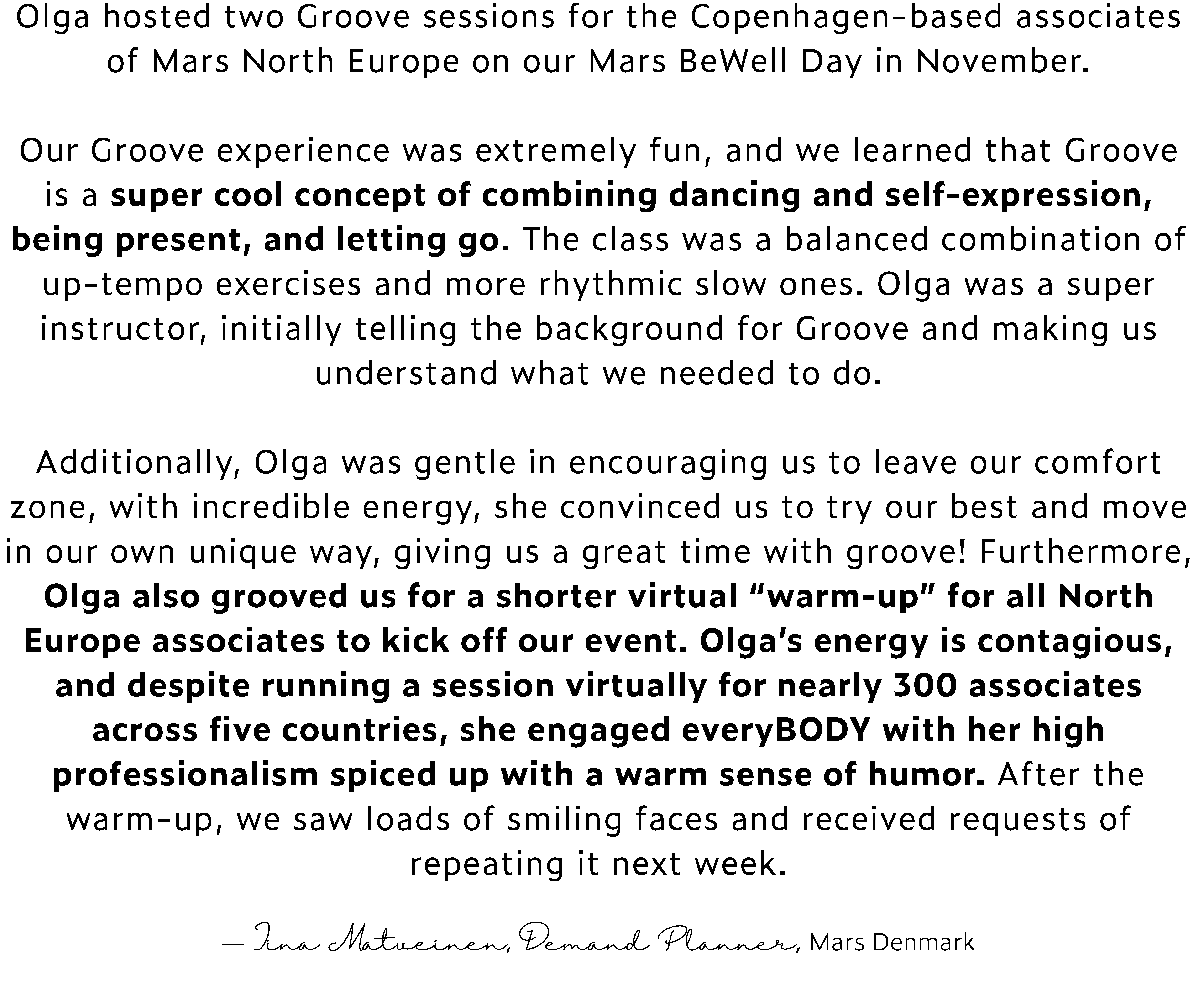 – Master's Degree in Psychology (recognized by the Danish Supervisory of Psychological Practice) and an AP Degree in Management from Copenhagen Business Academy
– certified Embodiment Coach (International Coaching Federation accredited)
– official Facilitator of The World Groove Movement
– more than nine years of experience in leadership, organizational development, and change management both in Denmark and Poland
– experienced in creating and executing workshops, events, and training programs
– great understanding of communication and dynamics in diverse teams